Can't Wait to Learn
Can't Wait to Learn
Child participants: 4,823
Can't Wait to Learn COVID-19 Response
Child participants: 9,873
War Child Teachers and Facilitators: 426
Countries: Six
Local partner organisations: 12
The COVID-19 pandemic has led to the largest disruption of education systems in history - with far-reaching consequences for 1.6 billion learners in more than 190 countries. While it is clear no-one has been spared, the year's events have been particularly troubling for children living amid violence and armed conflict. The pandemic has exacerbated existing inequalities and presented new barriers to quality learning opportunities.
Changing the Face of Education
Since its inception, Can't Wait to Learn has challenged the very nature of formal schooling. The innovative EdTech programme draws upon the power of partnerships to deliver quality education to millions of conflict-affected children in regions where classrooms and teachers are absent. We are currently active in six countries - Bangladesh, Sudan, Jordan, Lebanon, Uganda and Chad - and with the help of new investment are poised to grow more.
How does it work? Children learn how to read and write by playing educational games on tablet devices. All game content is based on national curricula - forging a pathway through primary education and beyond.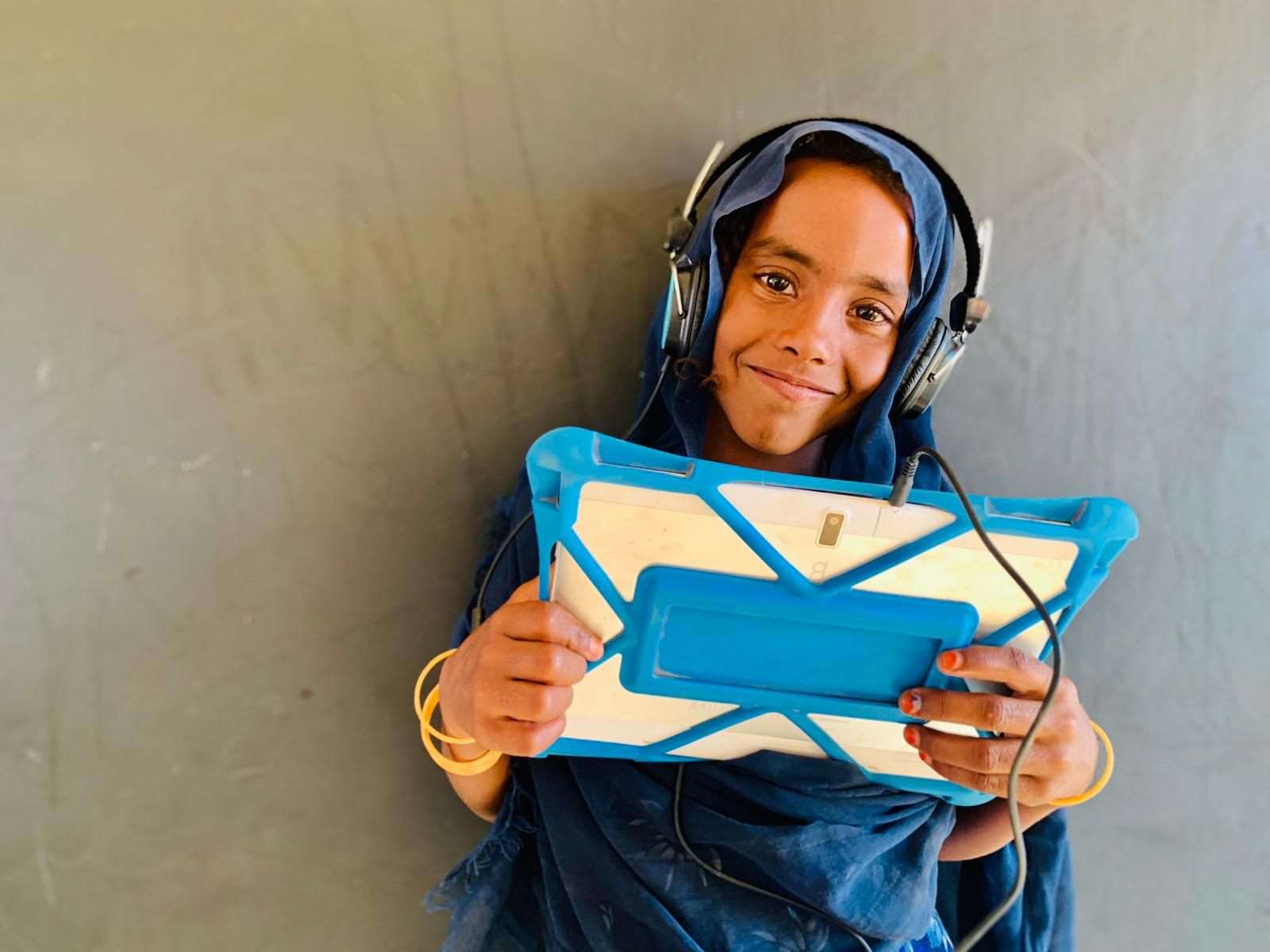 Responding to COVID-19
In the face of the coronavirus pandemic, we were able to adapt the programme in just a few short weeks seeing 14,434 children continue their learning journey remotely.
Positive feedback from caregivers and children boosted our morale - with reports that the education materials offered a welcome escape for the whole family. The distribution of water, sanitation and hygiene materials as well as COVID-19 awareness-raising sessions supported a safe transition to home learning.
Key to the transition was the set-up of the tablets to function well in a variety of remote learning settings - be it a city apartment, a town house or a tent in a refugee camp. We enabled access to learning content via mobile phones, TV sets and USB sticks. For those without online access, internet cards and SD cards were distributed. Where tablets were possible, caregivers were supported with 'how to' manuals for the devices.
In Lebanon, our Can't Wait to Learn@Home response saw over 12,086 refugee children develop their Arabic and maths skills through a blended-learning and teaching package. Videos, books and artwork were made available online for download and used in conjunction with printed materials. Communication between children and teachers took place via WhatsApp video call - an important space to share and monitor progress.
A New Era of Learning
Can't Wait to Learn is developed and implemented by a broad coalition of national and international partners - led by War Child. Without these partners we would not be able to fulfil our mission.
The year saw supporters The National Postcode Lottery, Humanitarian Education Accelerator and Mission Bambini reinvest significant funds in the programme. As the pandemic plays out, we are pursuing several opportunities to pool resources, expand our funding base and ultimately reach more children. This will be made manifest in a new scaling strategy set for launch in 2021.
Goal 2025: Can't Wait to Learn has enabled 80,000 children and youth affected by armed conflict to reach the national educational standards for maths and reading/writing grade 1-3 in up to 10 countries on 3 continents.  
Vision 2035: Can't Wait to Learn has contributed to the wellbeing of children and youth affected by war and conflict (SDG 3) by closing the education gap (SDG 4) for 200,000 out of school children through primary education that adheres to local and international standards.
Investment and learnings from research will form a key component of the strategy. In the coming years, Can't Wait to Learn will join forces with the Knowledge and Innovation Exchange (KIX) - jointly funded by the Global Partnership for Education and the International Development Research Centre - to research and determine how educational technology innovations can be adapted and scaled to improve quality and access to education.
You can find a full list of Can't Wait to Learn implementing partners, technical partners and donors here.